The development of blends of NR with EPDM combines the superior physical properties and competitive price of NR with the excellent resistance to weathering, in particular to attack by ozone of EPDM. However, NR and EPDM blends are heterogeneous dispersion of fast curing NR phase and a slow curing EPDM phase. The overall result is that the blend vulcanisate is composed of overcured NR and undercured EPDM, and these would adversely affect the properties of the blend.
In order to achieve improved co-curability throughout the NR/EPDM blends, a procedure has been developed whereby NR is cross-blended with a modified EPDM to give a blend which is able to meet the above properties. The approach used is to increase the cure rate of EPDM by modifying the EPDM phase to make it more reactive towards curatives, using commercially available sulphur donors such as bis-alkylphenoldisulphide (BAPD), in combination with dithiocaprolactam (DTDC) and/or dithiomorpholine (DTDM). This approach is termed as 'reactive mixing'.
Products in general
The technology of making the NR/modified EPDM blends has been shown to be suitable for a number of applications such as extruded profile weatherstrips for automotive and moulded products like grommet and washing machine gasket. These products typically use 100% EPDM, hence, the inclusion of a certain percentage of NR would reduce the products cost without affecting the products quality and performance.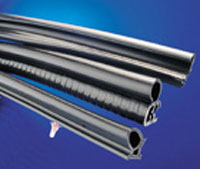 Automotive Weatherstrips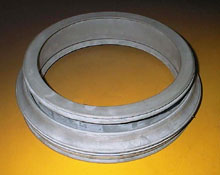 Washing Machine Gaskets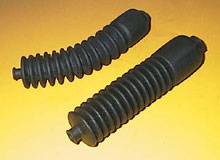 Grommets