When rubber compound is added with blowing agent, fine cell structure is formed on the vulcanisate after curing, this rubber vulcanisate is called microcellular. The cell structure of microcellular is normally closed with gas trap within the cell. Since the blowing can be controlled the final products density varies, the bigger the cell size the lower the density and the softer the material. If the cell size is small the density is higher and the harder the product. The properties of microcellular rubber is normally inferior compared to solid vulcanisate, this is because the cell initiates failure. Some of the properties deteriorated are tensile properties, hardness, tear strength, abrasion and compression set. The most preferable properties of microcellular are low density, lightweight, high impact absorption and soft that assured comfort.

The application of microcellular rubber is very wide from toy to important engineering applications. Some of the applications are sound absorption, vibration isolation, insulation, padding, floor backing, wall lining, footwear components cushioning and many others. For applications where physical properties is critical and light weight is required then low density is normally used and for applications where some engineering requirements are needed then higher density is used. In footwear application abrasion is important, the microcellular used is normally medium density and of harder vulcanisates.

Since microcellular is a close cell it does not allow liquid to penetrate. These advantages have been explored to be used in floatation applications. Some of the applications are life jacket, buoyancy, fishing float and many other applications as float.
Microcellular samples
Toy tyres made of microcellular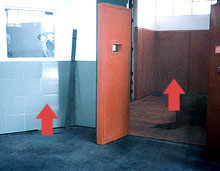 Wall is padded with microcellular rubber to keep horses comfortable