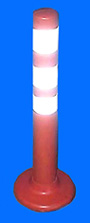 It is a type of road divider that is placed along roads and highways especially at junction as guide for road users to enter or exit junction.



Application



The flexible guide post basically used for channeling the traffic flow and also to give advance warning to vehicles on reaching the interchanges and junctions. Some locations to prevent vehicles from over taking at dangerous bands and corners and also to mark distance that vehicle can go before hitting the wall and objects. It is also used to mark the present of road barriers and island in the urban roads.

The flexible guide post developed in LGM are made from a blend of natural rubber with synthetic rubber and posses superior physical properties such as rebound resilience, tensile strength, flex cracking resistance, tear strength and ozone resistance.


They are made using three rubber compounds one coloured and two blacks. The red coloured compound is for the post and connector, and the hard black compound for the base while the soft black compound for the core.

The bright red post is for clear visibility during day time and the high intensity reflector for clear visibility during night time.

The post provides flexibility and durability in the event of run over by motor vehicles.


The post is ventilated with holes to allow the air to escape when the post is run over by the vehicles, the post will deflate and rebound back to original position.

The flexible guide post is fixed to the road surface with the aid of an aluminium anchor, screw and epoxy adhesive.

Manufacturing Process
Preparing of masterbatch compound (two black and one red compound) in internal mixer or two-roll mill
Adding curatives into masterbatch compound in two-roll mill
Compression moulding of four separate components (external cone, internal core, base and connecting cap)


Fixing of metal based


Pasting of reflector strips on post