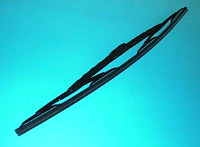 The wiper blade perhaps was first invented in 1910 that is not long after the introduction of cars on the road. Essentially it comprises of a specially designed rubber strip mounted on to a metal frame or wiper arm. When the rubber blade is placed firmly against the windshield, it creates a profile that enables it to wipe every point within the area of vision without smearing.

A good rubber blade wipes the water away from the windshield without leaving any streak or marking on the windshield. The streak or marking free operation is also attributed to the design of the wiper arm where an even pressure is applied over the length of the rubber blades through the wiper arm.

A good windshield wiper blade is therefore a combination of well-formulated rubber blades and wiper arm.

Manufacturing Process

Traditionally, rubber blades are made of natural rubber (NR) by moulding process. However, in recent years, many alternative materials such as EPDM, Silicon, etc. are being used to meet the more stringent demands imposed by the car manufacturers, including higher heat resistance, weatherability, continuous wiping behaviour over the life span of the wiping system. Some of the newer performance blades have a composite structure that combine a soft, pliable rubber on the squeeze surface (for good wiping) with a firm rubber in the blade body improved support and durability.
Preparation of rubber compound


Mixing is carried out on a two-roll mill or in an internal mixer. In the case of an internal mixer, it can be done in a single-stage or double-stage mixing where the masterbatch, which was earlier prepared in the internal mixer, is finalized by adding curatives on a two roll mill.



Determination of scorch time and cure time


All the above properties are required before going to the subsequent processes such as moulding, extrusion, etc.



Shaping and curing of the rubber blades


The blades can be prepared by compression moulding or extrusion process with continuous vulcanisation system using LCM or a microwave.


Precision cutting and trimming


Surface treatment
NR and EPDM blades usually require surface treatment process such as chlorination to lower the surface friction of the wiper blades.



Assembly on steel frame