Conventional road system using bitumen and aggregates is prone to premature failures due to cracks and rutting and subsequently require repeated expensive maintenance during its service life. Incorporating scrap tires which has been ground to a specified particle size into a bituminous mixture will offer many advantages and they are:
Durability

- rubberised pavements have excellent durability in terms of cracking and aging resistance.




Reduction in maintenance

- the Malaysian Public Works Department spends on average RM400 million every year on road maintenance and the rubberised bitumen could result in cost saving to the country.




Cost effectiveness

- The life cycle cost is lower because of long life cycle of rubberised pavements and enhanced performance and in addition the thickness of the pavement can be reduced and this lowers the initial construction cost.




Increase skid resistance

- provide added safety to road users.




Noise reduction

- rubberised pavement provides lower tire noise and hence a quieter ride.




Environmentally friendly

- the ever increasing number of scrap tires can be safely recycled and hence protects the environment.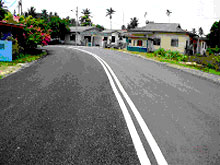 The left lane is the Malaysian first open-graded pavement which incorporates rubberised bitumen at Batu Hitam, Kuantan. Resurfaced in September 2002 with a total length of 200m. An open-graded system provides efficient drainage and good skid resistance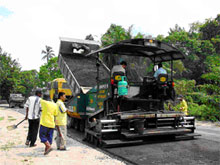 Resurfacing work was being carried out at the Batu Hitam stretch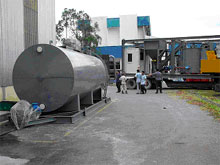 Since the Malaysian premix plants do not have facilities to effectively blend the ground rubber and bitumen, the Malaysian Rubber Board has constructed two dedicated mobile mixers together with storage tanks that can be easily interfaced with premix plants with minimal modifications.