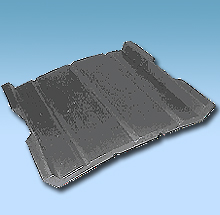 Rail pads, originally called "sole" plates or pads, are used when rail is attached to concrete, rather than timber, ties or sleepers. Their function is to reduce fatigue cracking of the concrete ties, which is believed to be driven by impact and vibration from the passing train.
It is thought that the pads act in two main ways: they diminish shock or impact loads by providing compliance, and they reduce (by isolation and perhaps by damping) resonant vibrations excited in the concrete ties (lowest resonant frequency about 200 Hz) and accommodate vibration deflections in the rail sections between the ties (about 0.12mm amplitude, 1000 Hz). In addition they prevent rail-sleeper abrasion, and crushing of the sleeper under the rail foot.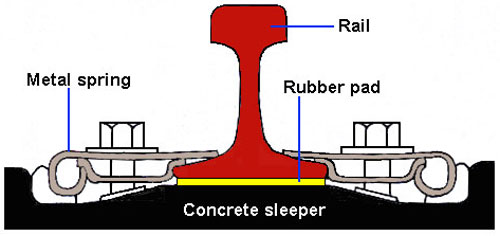 Rubber rail pads are normally designed to a specified load-deflection characteristic. The initial stiffness of the pad is designed to be low so that that their deformations under the springs toe loads is quite substantial. This ensures that the pad remains in intimate contact with the rail despite any vertical movements of the latter. When the wheel is over the pad, the latter's stiffness must be high to prevent large movements which can result in the metal spring becoming loose. Such a load-deflection characteristic can be obtained by introducing grooves in the rubber pads.
Manufacturing Process
•
Preparation of rubber compound
•
Mixing is carried out on a two-roll mill or in an internal mixer. In the case of an internal mixer, it can be done in a single-stage or double-stage mixing where the masterbatch, which was earlier prepared in the internal mixer, is finalized by adding curatives on a two roll mill.
•
Shaping and curing
•
Compression or Injection moulding
•
Trimming of finished products
•
Ready for use